"Cautiously Anticipating" The 3-Step Drop
October 23rd, 2014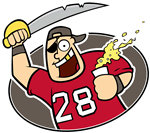 The Bucs defense has been abused by three-step drops this season.
So doesn't it make sense that the Vikings, a team with a good defense and a struggling offense, might try and see if the Bucs have figured out this quick-release riddle?
Joe explores this and more in the JoeBucsFan weekly podcast with Joe and smooth-toned Ronnie Lane of the Buccaneers Radio Network and WDAE-AM 620. On offense, Joe touches on starting faster, O-line misconceptions and more.
Enjoy.