Lovie Says QB Plan Doesn't Call For Change
October 27th, 2014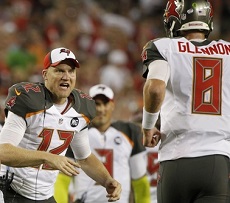 Avoiding what might have been never-before-seen outrage from Joe, Lovie Smith told media today that changing starting quarterbacks on Sunday is not in his plans.
"If we were going to make a change, I wouldn't talk about it an awful lot, but the plan isn't for that," Lovie said when asked about Josh McCown starting against Cleveland on Sunday.
"I thought Mike did some good things yesterday. You'd always like to have a couple of plays back, but you know, the first thing I thought about as far as improving our ball club wasn't, 'We gotta make a change at the quarterback position.'"
"Being able to run the ball will help our offense. The one game that we won, we had the same guy back in the pocket, for the most part the same offensive line."
So there you have it. Either Lovie now believes Glennon is better than McCown, or Lovie realizes there's no point to McCown any longer when you can use the time to further evaluate Glennon, or both.
Don't think for a second McCown isn't healthy. He is.
Speaking on the Buccaneers Radio Network prior to the Bucs-Vikings game yesterday, Lovie made that very clear: "[McCown's] hand will not be part of the equation at all. So he's good to go."