Lovie Roasted With His Own Words
October 30th, 2014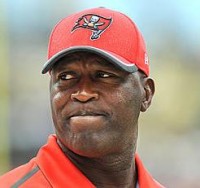 Lovie Smith was given the business this morning by Tampa Bay Times writers Rick Stroud and Tom Jones for what they believe were contradictions in the head coach's comments yesterday.
The duo took issue with Lovie saying the Mark Barron trade was about the present and not about the future, but also saying it's always about the future.
In addition, Stroud believes Bucs players aren't exactly on board with booting Barron.
"But there's also an element, and they won't say this. But there's also an element [among Bucs players] of, 'Really? Mark Barron is the problem? That's the guy. We're going to single him out?'" Stroud said.
Stroud theorized Barron was a such a prototype "Toes-on-the-line" Schiano personality that his demeanor might have led to him being drafted to help change the Bucs' "culture."
Joe doesn't really subscribe to all these theories, but you can listen Lovie's words and Stroud and Jones below, via the 620wdae.com audio cut.