Derrick Brooks Challenges Bucs
October 30th, 2014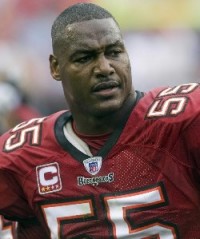 Bucs icon Derrick Brooks knows his beloved Bucs are at a critical point in their season.
Things could go in either direction.
The legendary Hall of Famer sat down yesterday with the dean of Tampa Bay sports radio, Steve Duemig of WDAE-AM 620, and dove into all kinds of Bucs analysis.
Brooks acknowledged that losing can wear on attitudes if not managed properly and players' are not true team-first guys.
"Now it's up to Coach Smith to guide, and to a certain extent control that atmosphere in terms of what that attitude is going be," Brooks said. "A quote that Rich Bisaccia gave me years ago and I use this often. He says, 'Attitudes are contagious. Is yours worth catching?'"

"That's why I challenge this football team to that one quote. Is your attitude worth catching, and are you going to be part of the solution and not be one to cite the problems?"
Joe senses tension in the Bucs locker room, but it's hard to say whether it's healthy or unhealthy. Heck, a team should be tense at 1-6.
Brooks said he wants to see guys focused no matter what they, individually, are producing.
"Don't get satisfied with the status quo, especially when you're losing," he said.
Brooks recalled Dungy drilling into him and Warren Sapp to view their stat line as meaningless if the Bucs didn't win the game.
Just like it was a test of will and leadership for Greg Schiano to lead the Bucs to a 4-4 record in the second half of last season following an 0-8 start, Lovie Smith has a huge task on his hands to keep the team focused to a man.