Is Whip-Cracking On The Way?
October 17th, 2014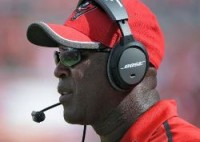 The most verbal, in-your-face coach on the Bucs' staff might be high-energy cornerbacks chief Gil Byrd. Joe can still hear his spring and training-camp intensity.
Byrd was visibly and passionately teaching the finer points to Alterraun Verner from Day 1 back in April.
Joe remembers Byrd screaming "not good enough" at Johnthan Banks during offense-vs.-defense work.
For those who like hearing football coaches and/or strong men stand up and be accountable. This is the audio of Byrd talking to reporters on Wednesday.
One things Byrd suggests is that me might need to be tougher on his players.
Fun stuff. Enjoy via the WDAE-AM 620 audio player below.