"I Don't Know How Long The Rope Is"
October 26th, 2014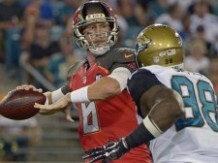 Entering the 2014 season, there were only two — just two — NFC teams with uncertain quarterback situations, Tampa Bay and Minnesota, who kick off at 1 o'clock today at the Stadium on Dale Mabry Highway.
The Vikings opted to draft rookie Teddy Bridgewater in the first round, a pick Joe believes was wise. The Bucs signed a career journeyman quarterback with a losing record to start because they didn't like their 2013 rookie QB enough.
It was a judgment call that still needs to play out completely for both teams.
Of course, now Mike Glennon is three starts into his audition for next year. The only smart thing is to let Glennon play out the season as the starter.
Former Bucs QB Shaun King, one of three men to lead the Bucs to the NFC title game, said this week on WDAE-AM 620 that there's no possible way Josh McCown is quarterbacking the Bucs next season, so Glennon is smart play, but "I don't know how long the rope is."
It was a wise comment. Joe doesn't know how much rope Glennon will get, either.
Lovie Smith, for some reason, doesn't want to go all-in with Glennon publicly. The only logical reason for that is because there is a mythical rope on Glennon.
Joe sure hopes Glennon doesn't hang himself with a garbage showing today. Joe's seen enough of the Josh McCown Experiment.