Bucs Got Worse Today
October 28th, 2014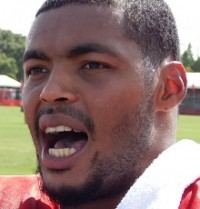 Joe loves today's Tampa Bay trades of Jonathan Casillas and Mark Barron. Beautiful work, Jason Licht!
However, these deals surely seem to run counter to the message sent by Lovie Smith.
Lovie keeps saying the Bucs are two games out of first place, right in the hunt of the NFC South title. So how exactly did the Bucs get better from these trades? How exactly do these deals help a team whose head coach says is a contender this season?
Barron wasn't performing well, but he was no Sabby The Goat. His trade makes the Bucs painfully thin at safety.
As for the move of the now-healthy Casillas, Lovie was just raving about the guy last night on his radio show. Lovie was excited to have Casillas return Sunday as one of his "core players" on special teams. Casillas also, when healthy, offered at least solid depth at linebacker.
So the cold reality is the Bucs got worse today. That sure doesn't appear to be the actions of a team that really believes it's in the hunt for the playoffs.
Again, Joe's fine with that. The Bucs have the worst record in the NFC and the rest of this season should be all about next year — even if the head coach won't go there publicly.