Break Out The Two-Minute Offense
October 30th, 2014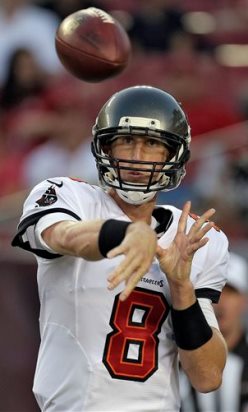 The Bucs coaching staff, in particular the offense and, of course, Lovie Smith, always talks about starting fast on offense.
But the only fast thing about the offense is how quickly it gets off the field after yet another three-and-out series in the early minutes of games.
In the second half, especially in crunch time, the offense appears to have life.
The solution to the early offensive woes, types Pat Yasinskas of ESPN, is simple. Start games with a no-huddle offense.
Smith and his staff have been unable to come up with anything to jump-start the offense. But I think the solution is pretty obvious. The Bucs have outscored opponents 68-33 in the fourth quarter. The Bucs have been playing from behind virtually all season, so they've used the two-minute offense extensively in the fourth quarter.

Quarterback Mike Glennon has been noticeably better when running the no-huddle offense. You can say the same thing about Josh McCown before he got hurt in Week 3.

The Bucs should try opening the game in the hurry-up offense. And they should sprinkle in the two-minute offense throughout.
Yes, it makes all the sense in the world. Even last year, quarterback Mike Glennon showed he was at his best in a no-huddle.
Remember the 49ers game when Glennon had two scoring drives using a no-huddle and then-Bucs commander Greg Schiano hung Glennon out to dry? Schiano put the kibosh on the no-huddle because, he said, they never practiced it?
The way the offense has been simply awful in the early minutes of games, breaking out a no-huddle, two-minute offense just might take Cleveland's defense by surprise.