Your Inactive Bucs In Pittsburgh
September 28th, 2014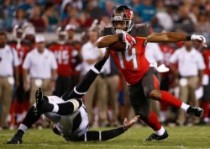 There are surprises here, for sure.
The first is rookie wide receiver Robert Herron. It seems his swiss cheese hands have caught up to him in the eyes of Buccaneers coaches.
Heck, Louis Murphy was on the street last week yet Herron sits.
Josh McCown, defensive end Larry English, Mason Foster and the rookie guards, Kevin Pamphile and Kadeem Edwards are no surprise. But Mike James is. That tells Joe that Doug Martin is close to 100 percent, and Lovie Smith isn't afraid of Vaseline-fingered Bobby Rainey.