What Does McCoy's "Scar" Feel Like?
September 20th, 2014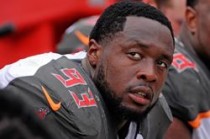 Yesterday, Lovie Smith talked about how Thursday's massacre at the Georgia Dome was one of those rare humiliations that will leave "a scar" on every Buccaneer.
Joe's concerned about how that scar may or may not heal on Gerald McCoy.
The reality is the Bucs would have loved to ink McCoy to a new restructured contract months ago. But it hasn't happened, despite discussion between McCoy's people and Bucs general manager Jason Licht.
McCoy is set to become an unrestricted free agent after this season. It's been widely reported that the cost to "franchise" McCoy and force him to be a Buccaneer in 2015 would be ghastly $18 million. Joe surely would franchise McCoy if it came to that, but it's not Joe's money to spend, and the Bucs may have no interest in that direction.
McCoy is a prideful, motivated man who wants to win. He appears to love being a Tampa Bay Buccaneer, but every man has goals and a price.
Would another season of losing drive McCoy away to the open market?
Joe was in the morgue-like Bucs locker room Thursday night in Atlanta. Joe and another media member walked toward McCoy, a team captain, to talk about the game. McCoy acted first before Joe or the other media guy said anything; McCoy nicely and with a smile said he wasn't playing on the field and had nothing to say. "Talk to them. They were out there," McCoy said gesturing toward teammates.
It was a rather un-McCoy kind of response, one that jolted Joe with fear that McCoy might start pondering his future.