Vincent Jackson Confirms Broken Wrist
September 25th, 2014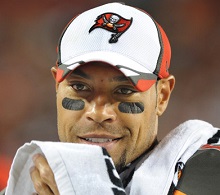 Joe's lived plenty of life and really doesn't remember a wide receiver playing through a broken wrist.
How would that not be a serious handicap?
Today at One Buc Palace, per ESPN, Vincent Jackson confirmed he is working through a wrist fracture. The initial FOX Sports report on Monday claimed Jackson broke it late in the first half against Atlanta last week.
Jackson is experimenting with braces for the wrist.
"We try to make it as non-intrusive as possible," Jackson said. "But again, it's about safety first. I don't want to make it any worse, so I'm just going to work around whatever they suggest."
Joe wishes V-Drops V-Jax the best. The Bucs desperately need him. Mike Evans isn't ready to be a No. 1 receiver yet, Robert Herron can't squeeze the football, and Louis Murphy is average at best.
Joe is speculating that Jackson is very motivated to stay on the field, given that he'll need a whale of a finish to entice the Bucs to pay him another $10 million next season.