Stocker Returns To The Spotlight
September 12th, 2014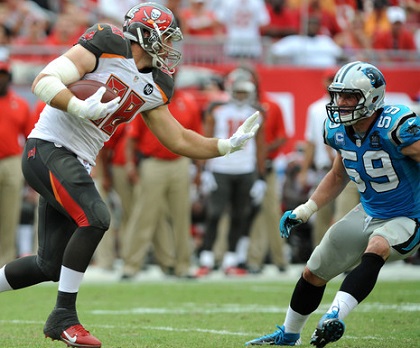 There's no official word yet, but manbeast rookie tight end Austin Seferian-Jenkins won't play Sunday after walking around with his bad ankle in a boot and not practicing this week.
And that puts Resurrection of the Year candidate Luke Stocker in a glaring spotlight.
Stocker hasn't been relevant since he caught eight Josh Freeman passes in the last three games of the 2012 season, before marching into the offseason as the clear No 1 tight end. But during intensive, summer sprinting to prepare for Greg Schiano's grueling conditioning test on Day 1 of training camp, Stocker tore his calf muscle and was never the same. He landed on injured reserve last September with a bad hip.
Stocker will be relevant again on Sunday.
The Bucs' offense often uses two tight ends, and Joe suspects there will be plenty of Stocker seen on the left side, finding openings in the defense when he's not helping Anthony Collins block Rams defensive end Robert Quinn, especially given that the other Rams stud DE, Chris Long, is out injured.
Damn, Stocker, 26, could be poised for a career game. Joe can already feel the excitement of faithful Bucs fans who drafted Stocker for their fantasy teams.