Adrian Clayborn Out For Season
September 12th, 2014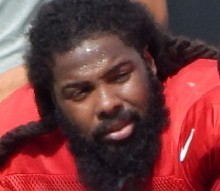 The Bucs have announced Adrian Clayborn has been placed on injured reserve with a biceps injury. Joe's presuming it's a tear that will require surgery.
What a blow to the Tampa Bay defensive line. There are varying opinions of Clayborn's value, but he was at least strong depth, and maybe could have been a lot more this season.
The bad news comes on the heels of Michael Johnson's ankle injury and invisible preseason, and opening day.
The Bucs have re-signed DE Scott Solomon to fill Clayborn's spot. Solomon was cut earlier this week after he played about 40 percent of the defensive snaps rotating in against Carolina.
Can Da'Quan Bowers resurrect himself as a defensive end?
Can William Gholston contribute?
Will just-signed former Chargers bust Larry English find a way to contribute?
Joe's not worried too much about Sunday, but Joe doesn't want to think about what might happen to the Bucs in Atlanta next Thursday night. It's not like there are good pass rushers at home sitting on their couch that the Bucs can snag. Edge rushers are serious commodity in the NFL.
Clayborn was in his contract year, and his Bucs days are likely over. Draft junkies can now start dialing in to what edge rushers the Bucs might target in May.