Report: Vincent Jackson Broke Wrist
September 22nd, 2014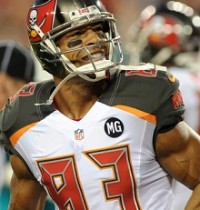 Bad news from FOX Sports.
NFL editor of FOXSports.com, Ross Jones, is claiming Vincent Jackson broke his wrist during the Bucs-Falcons game but will not miss any time.
The injury likely occurred on the first play of the Bucs' second offensive series. Jackson fell on his wrist after taking a hit from safety Dwight Lowery. He continued to play with the injury throughout the game without treatment.
Damn, Joe's hoping for the best for Jackson. And Mike Glennon surely needs all his weapons.
Joe surely never heard of a broken wrist not causing a receiver to miss game action. That's hard to believe.