Can Bucs Earn A "Moral Victory" In Pittsburgh?
September 22nd, 2014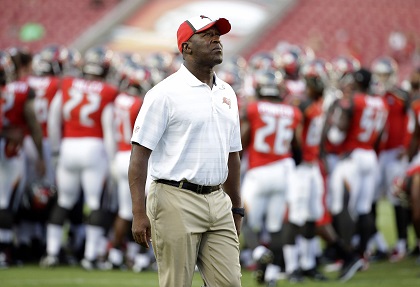 Lovie Smith friend and former mentor Tony Dungy shared an interesting philosophy last night during the Sunday Night Football broadcast on NBC.
Father Dungy was talking about the Broncos' late comeback against the Seahawks yesterday that ended in an overtime loss for Denver. And Dungy explained that he believes in "moral victories" and Denver achieved one in the wake of its Super Bowl beating to Seattle in February.
That got Joe thinking, could the Bucs earn a moral victory in Pittsburgh on Sunday? Could hope emerge again even in a loss?
Frankly, Joe is not on board with Dungy's thinking. No, there are no moral victories. This is the NFL. There is no NFL equivalent of a Division II college football team heading to Florida State and keeping the score close.
There also are no moral victories for impatient Bucs fans after the new regime told fans they had every right to be impatient.
After starting the 2011 season 4-2, the Bucs have since gone 11-34. Only a real win would feel good.
Joe sure hopes Lovie disagrees with Dungy on this one.