Report: Tedford Lacking Energy
September 8th, 2014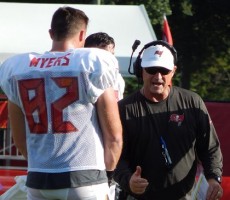 TampaBay.com Bucs beat writer Rick Stroud, who doubles as a morning show host on WDAE-AM 620, got to the stadium on Dale Mabry Highway early yesterday and talked to healing offensive coordinator Jeff Tedford.
This morning, Stroud shared good news and bad on the radio.
The good news is Tedford is progressing nicely. Per Stroud, Tedford had "a couple" of arterial stents inserted to clear coronary blockages.
The bad news is Stroud painted a picture of Tedford being happy to simply be performing basic tasks and not yet ready for full-time football duty this week.
"[Tedford] said that he felt good just to be up and around," Stroud said. "I mean you can tell that he's obviously been through something where he's been laid up for a while. The energy didn't seem to be, you know, at 100 percent quite frankly.
Being "very tired" tipped off Tedford to his heart problems, Stroud said.
He was not confident Tedford would return soon. "I don't know how much he'll do this week, though," Stroud said.
(You can enjoy Stroud's full take below, via 620wdae.com audio.)