Report: Gerald McCoy Broke His Hand
September 14th, 2014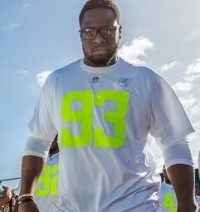 It's unknown how serious Gerald McCoy's second-quarter injury really was today, and how long he'll be out of the Buccaneers' lineup, but it doesn't sound good.
Per ProFootballTalk.com, McCoy broke his hand.
Sure, he could get fitted for a fancy cast that would allow him to play, but that likely would limit his effectiveness, especially against his steady diet of double teams?
The Bucs have a short week with a game in Atlanta on Thursday night. The Bucs' brass has an awfully quick decision to make.
And then there's the matter of McCoy being a free agent after this season and poised for a big payday. Will that be a factor?
Joe wishes McCoy well.