Patience, Please
September 18th, 2014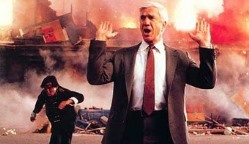 It is gameday but Joe still can't get it out of his head that the Bucs went complete scared turtle in the red zone and late in the first half with the ball against St. Louis.
When you let teams hang around, you open the door to get beat and that is exactly what the Bucs did Sunday. Somehow, they got the impression the end zone was infected with the Ebola virus.
What really galled Joe was the Bucs let three timeouts rot away like a gallon of old milk when they had the ball late in the first half.
Bucs coach Lovie Smith said after the game he didn't want to score points there, implying he didn't trust Bucs quarterback Josh McCown. Joe can sort of understand this. McCown's careless disregard for ball security isn't safe for senior citizens to watch. Of course, the logical question is, if you don't trust the guy, why is he on the field?
Joe has counted McCown making six ghastly stupid mistakes through the first two games, mistakes you might see Saturday morning on a Pop Warner field; seven if you want to nitpick. McCown got away with all but three.
With the Bucs 0-2 and playing the Dixie Chicks tonight, Bucs fans are irate the Bucs are hours from a potential loss that would kick-starting draft season. In September, no less.
Former Bucs defensive tackle Booger McFarland, star of the SEC Network and current on-air personality on WHFS-FM 98.7, studied the Bucs tape of the nutkick loss to the Lambs and believes McCown is getting better. In other words, he is preaching patience.
"After watching the tape, McCown made one bad throw," Booger said. "That was the one across his body. After that, he played a real conservative, good decision-making game other than one throw. So I can't criticize him for anything but one bonehead throw. I feel a little better after watching the tape. I am still suspect after that one boneheaded throw in this game – there were two in the first game. I am not 100 percent sold, but I feel better after watching the tape because he played pretty good."
Joe sure wishes the Bucs coaching staff had the same confidence in McCown that Booger has. Now the question is, can McCown win a shootout with Matty Ice?
If the Bucs can't stop a journeyman like Derek Anderson or a neverbeen third-string quarterback like Austin Davis, then how the hell are they supposed to stop Matty Ice on his home field?
Remember this: Since Matty Ice came into the NFL in 2008, no quarterback has more fourth quarter or overtime game-winning drives than Matty Ice (25).