"No One Works Harder Than Him"
September 23rd, 2014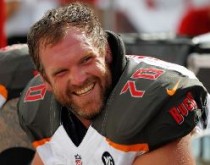 In the search for positives about this depressing Tampa Bay Buccaneers season, Joe keeps coming back to the trade for Pro Bowl guard Logan Mankins.
Bucs general manager Jason Licht tapped his old contacts, worked the angles, and brought in a reasonably-paid veteran who can play, and make those around him better.
All for a fourth-round draft pick and a tight end the head coach didn't want.
On the Buccaneers Radio Network last night, Lovie Smith was pressed to talk about the impact of Mankins, and the head coach was happy to go heavy on the praise.
"I think as a player coming in you don't need to talk a lot about what you've done. Even what you're going to do. Your new teammates, they're going to observe what you do, how you prepare, how disciplined are you, and what type of football player [you are,] and what do you have deep down inside. Can you play with a little bit of pain? All these things we talked about; that's exactly who Logan Mankins is," Lovie said.

"No one works harder than him. He's seen it all. So he's a veteran that has knowledge that can be passed on to some of your younger players. And he does that. But he's earned what he has as a veteran leader in our locker room based on what he's done, and our players just watching a real pro and how they do it."
In the graveside service that was the Bucs' postgame locker room Thursday, Joe talked to Mankins. And Mankins, who is soft spoken with a very sincere vibe about him, was one of the few players clearly confident the Bucs would "fight back" in their next game.
Joe's hoping Mankins' read on his new teammates is spot on. Joe's not sure his mind, liver and remote control can handle a back-to-back seal-clubbing.