Murphy, Melvin, Bowers On "Out" List
September 5th, 2014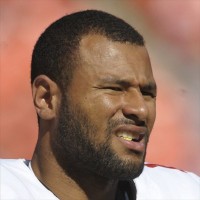 The Bucs are banged up and several won't play on Sunday.
Tampa Bay's official injury report was issued this afternoon.
Cornerback Rashaan Melvin, wide receiver Louis Murphy, defensive lineman Will Gholston and Da'Quan Bowers, and safety Bradley McDougald have all been ruled out of the home opener.
That means only two Bucs will be inactive on game day.
The injury to Murphy creates an intriguing situation. Look for rookie Robert Herron to get his share of work and critical snaps.
As for the loss of Bowers, well, Joe was hardly counting on him anyway as the No. 4 defensive tackle.