Mike Smith Ready For McCoy's Broken Hand
September 18th, 2014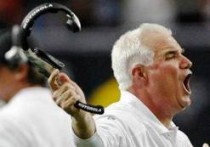 Falcons fans sure have their fingers crossed and their lucky sweaters on hoping Gerald McCoy is unavailable tonight.
Joe's sure McCoy won't play after breaking a bone on the left side of his left hand against the Rams. However …
Falcons head coach Mike Smith very matter-of-factly told Atlanta media that he's been around plenty of players who have played with broken hands and fingers and more.
Smith was very convincing in the video shot yesterday. He sure seems that he's not sold on McCoy resting for tonight's primetime event.