McCoy Names A "Night And Day" Impact Player
September 1st, 2014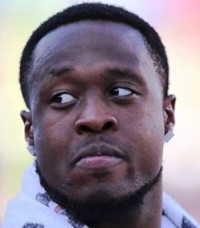 Gerald McCoy walked into the locker room this afternoon as loose as Joe is after a few beers during the first quarter of a football game.
McCoy was balancing a 16 ounce water bottle on his head and joked that he needs good balance to chase down Cam Newton.
But McCoy got into more serious chatter and drew a line in the sand when it came to who was going to shock Bucs fans in pass coverage. McCoy likes the transformation of his leaner, meaner middle linebacker.
"One person who is going to help us so much is Mason Foster. His level from last year to this year with covering is night and day," McCoy said.
This has to be music to Bucs fans ears. Foster has never been special in coverage. He's even looked quite raw at times over the past three seasons.
Perhaps Bucs icon and new linebackers coach Hardy Nickerson has been a game-changer?
As for bold predictions, McCoy isn't making any about the defense. Queried about whether this year's unit would have any swagger, McCoy laughed it off saying, "that stuff has to be earned."