Lovie: That's As Good A Football Play, That Play, As You Will See
September 23rd, 2014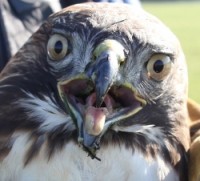 You could sense the hunger and optimism in Lovie Smith's voice on his radio show last night.
Lovie was talking takeaways, as in the four quality ones his defense generated in Atlanta.
One that really stood out for Lovie was the hunt and strip by Lavonte David, where the ball headed out of bounds before Dashon "Hawk" Goldson dove for the ball, caught it, and then threw it back to David before falling out of bounds.
"First off, Dashon hustled to get the ball. And that's as good a football play, that play, as you will see," Lovie said on WDAE-AM 620. "It for sure will be on the season highlight, and you're talking about a smart football player to make a play like that. To know that I can't really come down with the ball in bounds but to throw it back in to give my teammate an opportunity to make a play. How bout Lavonte David, also, hustling over of course to strip the ball out and up recovering the ball also."
Sadly, all the NFL.com highlights of the game failed to include that David-Goldson play. But they should have.
The others were worthy, too. There was the Alterraun Verner strip picked up by Mark Barron who starting run but coughed it up immediately to Devin Hester, the Danny Lansanah pick-6 in garbage time, plus this fantastic play by Leonard Johnson was the game was still within remote reach. You can watch that one here.