Lovie Needs "His Guys"
September 27th, 2014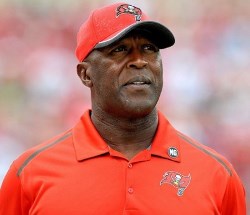 Lovie Smith substantially turned over the Tampa Bay roster since arriving in January. Just on offense alone, the turnover was Chucky-like.
The Bucs opened the season with seven new starters on offense. Yet the offense — or lack of an offense — has been truly offensive. But in some circles, despite all the new blood, there is a belief that Lovie still needs "his guys."
One person who subscribes to this theory is former Bucs wide receiver and now BSPN talking head Keyshawn Johnson.
When not battling Justin Beiber, Keyshawn talks football whenever he can and recently talked to Booger McFarland and Steve White of WHFS-FM 98.7.
"I don't know how talented the Bucs truly are," Keyshawn said. "They got a couple pieces but for the most part, how talented is that roster? I think that's where you start at because Lovie Smith just didn't forget how to coach overnight.

"Once he gets his guys in there, the talent he wants to runs his system both offensively and defensively, then I think the Bucs will be right back on track."
But what and who are Lovie's guys on offense? Weren't most of the pieces on offense acquired to run Jeff Tedford's offense? And what exactly is Lovie's offense?
As an aside, one of the funniest comments Joe has ever seen from a reader came from the notorious "Thomas 2.2," who once said of former Bucs commander Greg Schiano's early boot camp ways, "They have to work the Rah out of them."
That is essentially what Keyshawn told Booger and White when he said, "Unfortunately, they still have the personality of the former head coach in [Greg] Schiano."