"I Apologize For Not Seeing Through The Mirage"
September 27th, 2014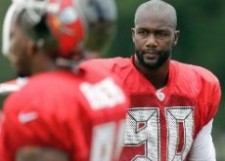 Underwear football folly led a longtime Tampa Bay Buccaneers analyst to issue an apology to his readers yesterday.
This veteran of all things Bucs feels duped.
Scott Reynolds, of PewterReport.com, penned a look at all things Bucs and felt compelled to claim what he saw and reported from Bucs spring practices simply didn't exist.
Remember when I was touting Tampa Bay's offense during the OTAs and mini-camps this offseason and marveling at how quarterback Josh McCown was hitting 80 percent of his passes and throwing to wide open receivers? We've now learned why.

We've learned that the Bucs offense isn't dynamic at all and that McCown isn't that accurate. He looked good – and the offense looked good – because it turns out that Tampa Bay's defense is so bad. Everything I saw in the offseason and reported was simply a mirage, unfortunately. I apologize for not seeing through the mirage and realizing that it was the defense that looked so bad – rather than the offense looking so good. The real problem is that I'm not the only Bucs beat writer that was fooled. Most of us were.

The reason why receivers were running wide open in practice is because the defensive backs have problems in coverage, evidenced by the fact that the secondary has just two pass breakups and no interceptions through three games. Part of the problem has been the lack of a consistent pass rush as Tampa Bay has generated just four sacks in three games and is on pace for only 21 this year after recording 35 in 2013.
Underwear football, aka spring practices when players can't hit each other and line play really doesn't exist, is nothing more than flag football. There's not a lot to judge fairly or accurately. Some, but not much.
Chris Owusu, Jeff Demps, Josh McCown, Jamon Meredith, Oneil Cousins are among many examples of guys who (allegedly) looked good during the spring, only to wilt when it counted.
Joe often is pounded by readers asking, "Who looks good?" or "How does __ look?" when the pads are off in practice. Joe often responds by sharing the player's height and weight, a sarcastic way to say flag football isn't real football so stop asking.
Regardless, Joe remains confident that Lovie Smith and Leslie Frazier can stabilize the Bucs defense this season, possibly through staying the course and better coaching, and/or by making serious adjustments because of personnel failures.
If those two can't craft a decent defense going forward, well, then they certainly won't win games. And that could put their jobs in jeopardy quickly.