Jeff Tedford Won't Call Plays Today
September 7th, 2014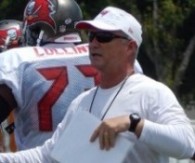 It's official, per NFL Network.
The Jeff Tedford offense will be introduced to the NFL today without its mastermind.Tedford will attend the game but call plays.
Bucs quarterbacks coach Marcus Arroyo, a 34-year-old Tedford disciple, will be on the sidelines and the voice inside Josh McCown's helmet.
Earlier this week, tight ends coach Jon Embree talked about the Bucs' collaborative effort to work without — and with — Tedford.
Joe wishes Arroyo the best. It's an incredible opportunity for the young man. Now Joe really is expecting a conservative-leaning approach.