Is The Offensive Line Fixed?
September 14th, 2014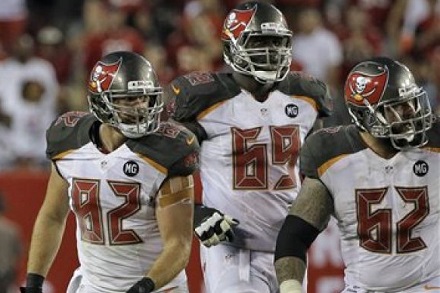 It sure seems like the stench of the Buccaneers' preseason is now a flowery fragrance.
Yes, the Tampa Bay offensive line isn't the problem any longer. They even looked a tiny bit better than average today.
That's pretty good for a still-jelling unit, and the vaunted Rams pass rush wasn't a major factor in today's ugly loss.
The Bucs ran successfully quite a bit behind left guard Logan Mankins and left tackle Anthony Collins. Josh McCown largely had time when he was asked to throw, though he was shut down on many passing downs, courtesy of Lovieball. Patrick Omameh was better at right guard in his second career start, and the unit looked pretty physical against a physical Rams front-7.
The O-line even emerged healthy, which is quite an accomplishment on the decimated Bucs.
The solid O-line play makes it even more stunning that the Bucs coaching staff pulled the plug on the passing game in multiple third down situations. They surely couldn't have used fear for McCown's life as a reason.