Is Lovie Fingering Vincent Jackson?
September 19th, 2014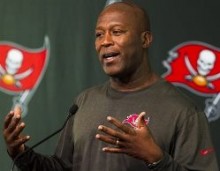 Lovie Smith had an interesting comment this afternoon at One Buc Palace.
The subject of Josh McCown's future came up and Lovie offered a unique defense of his hand-picked turnover machine quarterback.
Today, Lovie noted that those four McCown interceptions, "all of those weren't even his, to be truthful."
Wow.
Well, surely the two gruesome picks against Carolina and the ultra-ugly one against St. Louis were on McCown. (Joe just went to a film review.) But what about last night? It sure appeared to be a weak effort to the ball by Vincent Jackson, though McCown stared down the receiver and opened himself up for the pick.
Joe suspects Lovie is fingering Jackson versus McCown. Here's the video evidence. And, of course, there's always a chance Jackson was supposed to run that route closer to the first-down marker, versus the few-yards-beyond position he was in. You decide.
(You can listen to Lovie's full audio this afternoon below.)