Has Lovie Smith Lost His Edge?
September 18th, 2014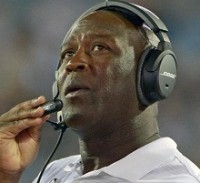 The question absolutely must be asked.
Sorry, when a powerful, accomplished head coach takes over a new team, and the winless team doesn't show up for a "must-win," Week 3 game against a division opponent on national television, it's fair to wonder aloud whether the head coach knows what he's doing.
Lovie Smith's job is to get the most out of his players. And he hasn't done it. Not even close.
Most concerning to Joe is the Buccaneers' repeated failures on defense.
In Weeks 1 and 2, Lovie's defense could not find a way to confuse (let alone stop) backups Derek Anderson and/or Austin Davis. That's inexcusable on its own. But it was followed up tonight by Matt Ryan setting a new Falcons passing record for completion percentage — which led to a new Bucs record for humiliation, tonight's 56-14 loss in Atlanta.
This is not a well coached Bucs team. Sloppy and dumb penalties. Bad special teams. (Don't kick the damn ball to Devin Hester!) Vanilla offense. Inability to adjust on defense.
And what about the effort? Can any observer in his right mind say these Bucs are playing hard as a group? If they are, then there are even bigger problems at One Buc Palace.
This is new territory for Lovie. He has never been head coach of an 0-3 team. Heck, he was never head coach of an 0-2 team.
Lovie has a lot to prove in the coming weeks. Coaches earn their money by how well they adjust and adapt and get the most out of their personnel. That's the essence of coaching.
Lovieball isn't working, and he might just need to reinvent himself.