Can Lovie Now Adjust?
September 18th, 2014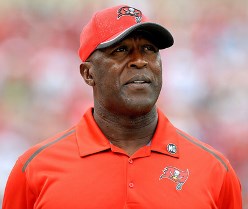 First Joe was aghast. Then he was angry. Then he was PO'ed.
Now, Joe is just spent. Emotionless. Nothing left in the tank.
Joe is a coach's guy, both good and bad. The one thing Joe learned when he was a kid was that good coaches adjust to the talent on a roster.
Can Lovie do this?
Lovie loaded this Bucs roster with guys who he claimed could play his defense. Rarely a day goes by that Lovie doesn't talk about the need to get pressure on the quarterback and to force turnovers.
This just in: It ain't happening. Doesn't matter if Gerald McCoy is healthy or not. Doesn't matter how many millions of dollars of Team Glazer cash they threw in Michael Johnson's lap (who?). It doesn't matter. It is not working.
This defense is beyond a sieve without pressure up front. This just in: The Tampa-2 is not the only defense that can be used in the game of football. There are all sorts of decent teams out there that don't run the Tampa-2. There is no law or 11th Commandant that states thou shalt run a Tampa-2 when coaching the Bucs.
Hey, it's a great defense if you have the horses. The Bucs don't have the horses. Whether that is just bad player evaluation by Lovie, Joe doesn't know for sure.
So it has come down to this: Does Lovie craft a defense that better suits the abilities of the players he has on the roster, or does he try to shove a square peg through a round hole, have his defense get lit up week after week, dance with a winless record and secure the No. 1 pick in the draft, or does Lovie try to salvage the season?