"Happy To Take Tampa Bay, 20-14"
September 12th, 2014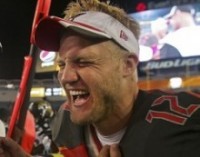 The Buccaneers are about to bounce back in a big way, become "relevant" again (a favorite word of Lovie Smith).
That's the take from Pat Kirwan, the former Bucs scout, Jets personnel chief and linebackers coach under Monte Kiffin. Kirwan joined prickly Pete Prisco for their weekly in depth look at the Bucs game.
Kirwan says the significant trouble for the Rams is the loss of defensive end Chris Long. Now the Bucs can comfortably slide protection over to the left side all day long to stifle Robert Quinn.
Both also dig deeper and call the game. Enjoy.