"Donuts And Milk Only"
September 21st, 2014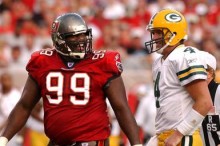 Has the NFL gone soft?
Aside from all the wacky new flag football rules, teams frown on any kind of rookie hazing and have hired vegan nutritionists, and players practice about 20 percent of what they used to 10 years ago.
In this Buccaneers.com video, Warren Sapp relays a fun story about his rookie role as breakfast coordinator, and how it led to more rookie abuse and a tongue lashing by Sam Wyche.
Joe enjoyed the video. It was nice to have a fun Bucs moment for a change.