Coping With A Beatdown
September 25th, 2014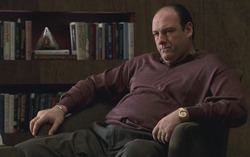 The seal-clubbing the Bucs received at Atlanta last week is fresh in the minds of Bucs fans. Just the thought of it gives fans acid reflux.
In some cases, Bucs fans who bravely watched all four quarters of that debacle are suffering from post-traumatic stress disorder, and have been found to aimlessly wander their neighborhoods in the small hours of the night, muttering the same question over and over about Mark Barron covering tight ends.
Some Bucs feel the same way, sans roaming the streets at night. Yesterday at One Buc Palace, there was constant chatter about the game that featured the Bucs down by 56 points in the third quarter, the worst deficit any Bucs team has faced. Given some of the atrocious teams the Bucs have marched onto NFL fields in the franchise's history, that is saying quite a lot.
One such player was center Evan Dietrich-Smith. Each player is coping with the nightmare in his own way. EDS just considers the game a loss, nothing more.
"It happens," EDS said. "You could have been a loss by one, you could have been a loss by 100. It is still a loss. Teh most important stat in the league is, what? The win and loss column. A team could win by 100 points and they ight get to the playoffs and lose. The imporrant thing is, if you want to go to the playoffs to win as many as possible. We have to play Pittsburgh. I'm not focused on last week. I'm focused on Pittsburgh."
Interestingly, EDS said the team just needs to prepare like it always does. That is the opposite of what his teammate Akeem Spence suggested the Bucs are doing.
Perhaps if the offense begins working a little harder, as Spence hinted the defense is doing this week, maybe the offense will be able to tally more than one touchdown in the first three quarters of the game?