Bucs Are What Lovie Said They Were
September 15th, 2014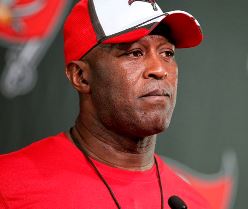 When Lovie Smith was hired, during the first couple of months when asked his Buccaneers roster, he often would add the qualifier, "But we are a 4-12 team," as if to say the roster needs a serious upgrade.
The Bucs had a massive purge of players, namely on offense; they drafted nothing but offense. Bucs fans, thinking Lovie possessed a magic wand and that he drafted just offensive players, thought a turnaround and a new day of offensive football at the Stadium on Dale Mabry Highway was here.
Hold up! Ornery Alan Dell of the Bradenton Herald suggests Bucs fans should have just heeded Lovie's words when he was first hired.
Remember how during spring and summer workouts new Bucs head coach Lovie Smith kept saying we are a 4-12 team?

Well, the Bucs were — and are — a 4-12 team.
Sure, the Bucs have only played two games and Joe has said publicly that it really isn't fair to judge a team until after the third game at the earliest.
However, when a team is beaten by a journeyman like Derek Anderson, when a team is sliced apart by a never-been third string quarterback, when a team had four of its starting front seven on the sidelines injured, when a coach slams the brakes on an offense in the red zone because he is scared to score a touchdown, allowing three timeouts to rot away like an old gallon milk in the fridge, we may have seen enough of the Bucs.
After but two games, it appears Lovie knew his team better than anyone assumed. A 4-12 record right now doesn't seem far-fetched.