Tiquan Underwood Cut; Davin Joseph Thriving
August 24th, 2014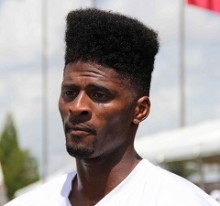 The man who was the Bucs' No. 2 wide receiver for much of last season is jobless again, as he was about this time of year in 2012 and 2013. Tiquan Underwood was cut by the Panthers today.
The Mike Glennon Mob has been heard all afternoon screaming, "You see. You see. Glennon had no one to throw to."
These mobsters are printing new "19 and 9" bumper stickers right now.
On the flip side, those who say Glennon had no offensive line might be wondering how Jeremy Zuttah (Ravens), Donald Penn (Raiders) and Davin Joseph (Rams) have all managed to get through training camp healthy and beloved on their new teams while the Bucs' offensive line has struggled.