Herron Slotted Nicely For Opening Day
August 24th, 2014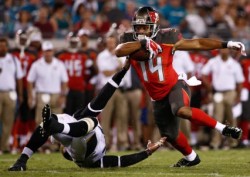 Lovie Smith told media numerous times that who plays in the "dress rehearsal" game in Buffalo, and when they play, will reveal an awful lot about what Lovie thinks of the player.
Rookie wide receiver Robert Herron was targeted on the opening call of the Bucs offense.
The Bucs' offensive line was still in matador mode and the quick strike to Herron was a two-yard loss, but the statement on Herron was made. And the sixth-round pick was on the field for a handful of exotic-looking receiver sets with the first team.
Veteran receivers Louis Murphy and Chris Owusu, for example, didn't have a ball thrown their way with the first team.
Considering Bucs general manager Jason Licht gave a public nod to Herron eight days ago, Joe's quite certain Herron will make the 53-man roster and get a shot at a vital role in the offense.
Herron has the speed the regime covets, runs good routes and makes athletic plays on the ball, and his questionable hands have improved. And it surely doesn't hurt Herron that Jeff Demps can't hold on to the football and failed to show he can play special teams.