Tim Wright Is Too Good To Bury
August 20th, 2014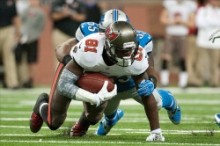 Lovie Smith's public flogging of Tim Wright could simply be a motivational tactic for the second-year tight end, perhaps even a bizarre smokescreen for the Panthers.
After all, Wright, as a rookie playing a brand new position, caught 54 balls and five touchdowns last season. He's a valuable 24-year-old talent.
Joe would be surprised if the Bucs cut Wright, and Lovie's firm criticism may have torpedoed any trade leverage the Bucs might have had.
Regardless, former Buccaneer tight end Anthony Becht, who now works for the Buccaneers Radio Network, says it's on Lovie, Jeff Tedford and their staffs to find a way to use Wright's skills.
"I would be a little disappointed if I didn't see Tim Wright make the team. You hate to see a 50-catch guy in the NFL, especially young in his career, not be able to fit into the mix," Becht said on WDAE-AM 620. "I don't see anybody distancing themselves, like Brandon Myers or Luke Stocker, so I can't say those guys are worthy of, you know, getting Tim Wright cut. I haven't seen [Wright] day to day. He's got to get better. Just off what I saw last year of Tim Wright, I think you have to find a way to fit him into the mix of the offense."
Joe agrees with Becht, but the roster numbers game might hurt Wright. The Bucs are piling up all kinds of injuries at other positions.