This Ain't Chicago
August 3rd, 2014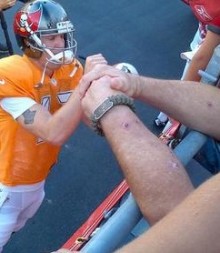 Bucs starting quarterback Josh McCown already has mentioned how he's been surprised by the level of passion exhibited by Tampa Bay fans he's encountered. (What? You mean, Luke McCown didn't share that with his brother?).
And now it appears McCown got another surprise: Bucs fans aren't the typical A-holes McCown likely ran into in Chicago and at his other NFL stops.
"They're such a good group of fans. They're very respectful, too. When you sign [autographs], I mean it's just a neat group of people to be around. We're very, very fortunate for us to have these kinds of fans," McCown said after Friday night's practice at the Stadium on Dale Mabry Highway.
Joe would agree that Tampa Bay fans are extraordinarily respectful to their beloved Buccaneers, though Greg Schiano and Michael Clayton might disagree. McCown, however, doesn't have to worry about absorbing that kind of wrath from local. Long before McCown could disappoint like Schiano and Clayton did, he'll be out of the lineup in favor of the "quarterback of the future."
Enjoy the rest of McCown's Friday night chatter below. He also talks about getting used to the "depth perception" of the home field, and more.