"They Can Get Somewhere Close To .500"
August 1st, 2014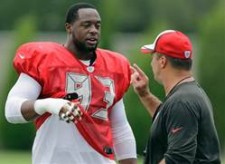 Whatever Herm Edwards is inhaling at ESPN headquarters hasn't been passed on to noted NFL insider "The Professor," John Clayton.
Clayton likes what Lovie Smith is building but doesn't believe it's enough to make Bucs fans smile all around Tampa Bay.
"I certainly think they can get somewhere close to .500," Clayton said of the Bucs' 2014 season during an interview on WDAE-AM 620. "Because I think with what they've done in getting younger on the offensive line and trying to make the changes and get a little more pass rush on defense, they should be able to make a little bit of a jump closer to the top. But I think New Orleans has such a distinct advantage; there's a good likelihood that if they do well in division games they could end up with the No. 1 seed. I do think Atlanta is going to bounce back, being more physical on the offensive line and more physical on the defensive line."
It's too early for Joe to finalize a prediction for the Bucs' season. However, Joe agrees with Clayton that the rest of the NFC South is quite strong.
Joe laughs when he hears people down on Carolina. The Panthers had the NFL's No. 2-ranked defense last year, and their entire front-7 is returning. Yeah, they're gambling with nobodies in their receiving corps, but a nasty defense and a franchise quarterback in Cam Newton should at least be good enough for a winning season.