Sunday Practice Notes & Observations
August 10th, 2014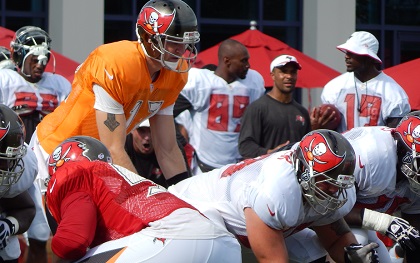 Hard work continued at One Buc Palace this afternoon, as fans and media watched your beloved Bucs run through a physical training camp practice from 2 p.m. to 4:30 p.m.
Joe's got all kinds of notes, nuggets and need-to-knows:
*Pro Bowl cornerback Alterraun Verner returns for his first practice in two weeks. He's limited today but in full pads.
*CB Mike Jenkins (leg) is still wearing a floppy hat and sneakers.
*Nice hands across the board from Bucs receivers during a corner-of-the-end-zone drill. No drops. Some wobbly throws by assistant coaches included.
*Vincent Jackson looks particularly sharp in drills early.
*DROP! Skye Dawson. Wind issues.
*Eric Page is the first punt returner of the day. He makes a fair catch under tough wind conditions. Bobby Rainey gets second call to returner duty. Dawson is third.
*During practice downing a ball inside the 5 yard line, Leonard Johnson and Pointer are screamed at by a coach to "get there" after they fail to secure a downable punt. Jeff Demps gets an angry earful for slapping at a ball he could have caught to down inside the 5.
*Kickoff drill has Mike James as first returner up.
*Undrafted rookie Euclid Cummings gets a stern lesson from special teams coordinator Kevin O'Dea on return blocking and balance.
*Jace Daniels lines up as first-team right guard. Oneil Cousins at left guard.
*McCoy blows up Cousins on second snap.
*Physical start to 11-on-11 session.
*45-yard bomb over the top to Louis Murphy from Josh McCown — in stride. Joe didn't see who was covering. Joe was too busy watching the excellent pass blocking.
*Akeem Spence has to pull up on likely sack with second team. QBs don't get hit in practice. LB Dane Fletcher had similar scenario. Glennon needs to get ball out faster.
*Second-team guards are Patrick Omameh on the left and rookie Kadeem Edwards on right.
*No room up the gut for Doug Martin.
*INTERCEPTION! Keith Tandy after Dawson tips a Mike Glennon pass he should have caught.
*Nice over-the-middle connection between QB Alex Tanney and Page in third-team work.
*Short drop, quick sideline connection from McCown to V-Jax.
*Out of sync. Glennon and Seferian-Jenkins. Hard to assign blame.
*Page with very quick feet to shake Gorrer after a catch in second-team duty.
*James bursts through middle biting the football but Major Wright raced in and punched ball loose.
*Demar Dotson handles Adrian Clayborn in consecutive 1-on-1 work.
*Michael Johnson rips easily inside Anthony Collins in 1-on-1. Lovie Smith offered a look of approval from a few feet away.
*Martin catches short pass and had Mason Foster not let up, he would have splashed Martin.
*Heavy cloud cover cools off practice with one hour remaining in the session.
*Tempo is a much bigger part of today's work on offense.
*Clayborn beats Kadeem Edwards way too easily in 1-on-1 drill. Offensive line coach George Warhop steps in for a chat.
*McCown very animated today with Jeff Tedford and Mike Glennon, clearly discussing nuances of plays, or perhaps directions to a chiropractor.
*Nice catch, slide and get-up-to-run by Page. Extra hustle from him today.
*Leaping grab by Mike Evans from McCown about 15 yards up the seam. McCown claps. Evans seems most comfortable in the middle of the field.
*Cousins with a solid job on McCoy in 1-on-1 session.
*McCown threads tiny needle to Tommy Streeter. That generates another McCown clap.
*Spence drives back Cousins in 1-on-1 session. Cousins not happy.
*Bad pass Glennon to Evans.
*Great hands out of the backfield by James.
*Lavonte David easily snags a one-had interception of McCown. Not sure what McCown was thinking there.
*Banks with a breakup of Streeter but sure looked like interference.
*Scramblin' Glennon avoids pocket breakdown and runs up middle.
*Charles Sims with a nice run off left sideline, patient to read blockers and then burst through hole.
*Danny Lansanah nearly took Sims' head off. Roger Goodell would frown.
*Skies open at practice with 25 minutes remaining.
*Robert Herron touchdown over the middle from Glennon in the rain. Followed by Tommy Streeter touchdown.
*INTERCEPTION! Leonard Johnson steals a pass away from Jeff Demps for a pick-6 of Glennon.
Stick with Joe through the evening for so much more from todays' practice.