Suggesting A Running Back Trade
August 11th, 2014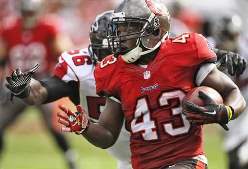 The Bucs legitimately go four-deep at running back with Doug Martin, Charles Sims, Bobby Rainey and Mike James.
That's a nice luxury, but it's especially unnecessary when/if your offensive line can't open a hole.
Former Bucs tight end Anthony Becht, a member of the Buccaneers Radio Network, took to the WDAE-AM 620 airwaves this morning and suggested that general manager Jason Licht might consider dumping Rainey or James if it helps secure a solid guard as part of a trade.
Joe can't disagree, especially if the Bucs decide to keep wild card speedster Jeff Demps, who showed little on Friday night. With Demps on the roster, that would make Rainey or James even more expendable. Maybe there's a decent guard out there the Bucs could score by offering Rainey and a seventh-round pick, for example?
Yes, Lovie Smith says not to "overreact" to the Bucs' messy offensive line play. But it's awfully hard not to. Winning football isn't played behind the O-line the Bucs showcased Friday.
You can listen to Becht's full breakdown of the first preseason game in the WDAE-AM 620 audio below.