Evans Talks "Crisp" Factor And Jimmy Graham
August 11th, 2014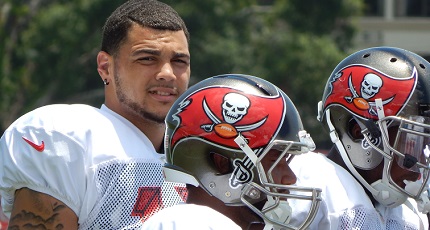 There's a clear pattern to the impressive catches Mike Evans has made in practice. They all seem to be over the middle of the field.
But that's new terrain for the Bucs' first-round draft pick, who offered Joe a little detail yesterday.
When it was just Evans and Johnny Football cranking out big plays at Texas A&M with maniacal smoothness, Evans wasn't a very diverse receiver.
"Being in college, I only played on the outside, so I'm more comfortable outside, but I like being in the middle. Josh [McCown] finds me, and I'm a big body in there, and he can just throw it up and I can go get it," Evans said. "You don't have to be as crisp in there, I guess. Our tight ends can get open easy in there, so they kind of use me like that at times, like a Jimmy Graham, I can just run and use my big body.  I guess they're using me like that kinda."
What Bucs fans aren't seeing yet from Evans are the 50-50-style jump balls the Bucs expect him and Vincent Jackson to win consistently during the regular season. There's too great an injury risk on those to see them in practice and, of course, a quarterback also must have time to breathe in order to execute one in a preseason game.
As for Evans working all over the field, look for that to continue. The more diverse and unpredictable he can be, the more the Bucs offense should hum.