Sammy Watkins Vs. Alterraun Verner
August 21st, 2014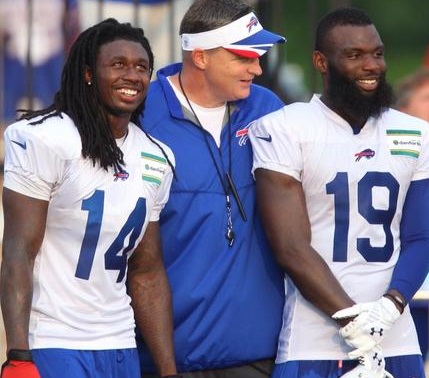 Before the NFL Draft, countless Tampa Bay fans were afflicted with the Sammy Watkins Fetish, a syndrome that drove otherwise reasonable people into insisting the Bucs trade up from their No. 7 pick and give up a ransom to land Watkins.
The lunacy was stunning when considering the draft was deep in quality receivers.
Watkins landed in Buffalo, which had previously traded with the Bucs for stripper-pole-friendly, mattress-in-the-yard, blade-in-the-thigh receiver Mike Williams. Obviously, that was a calculated move so Williams could complement Watkins and help mold the prized rookie into a professional.
Ever since the draft, Joe's been very eager for Saturday's third preseason game, a chance to see Darrelle Revis' replacement, Alterraun Verner, line up against Watkins.
Lovie Smith made it clear yesterday that Verner is expected to finally make his Bucs debut and play about a quarter on Saturday. Watkins has a rib injury and has been limited in practice this week, but the injury doesn't seem serious.
Verner sure could get one heck of a test for his healed (healing?) hamstring. Watkins can rip the cover of a defense and has shown flashes of being a handful through the preseason.
Regardless, it would be a matchup of what the Bucs paid for against what some fans wanted them to pay for. Joe can't wait.