Robert Herron Draws The GM's Nod
August 17th, 2014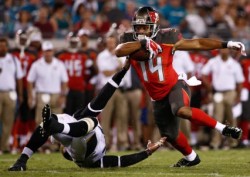 Think Bucs rookie sixth-round pick Robert Herron is "on the bubble" when it comes to making the Tampa Bay roster, well, not so fast.
After hearing Bucs general manager Jason Licht speak last night, Joe's ready to anoint Herron an opening-day Buccaneer.
Licht joined the Buccaneers Radio Network and talked to play-by-play man Gene Deckerhoff about all sorts of subjects.
Deckerhoff asked Licht about rookie Mike Evans, and Licht seemed to want to talk just as much about Herron — without being asked.
"One guy that has gotten some opportunities in practice and has been making the most of them is Robert Herron," Licht said. "He has continued to get better and better every day. He's an exciting guy to watch."
Joe talked to Herron after last night's game. The rookie said his adjustment was rocky but is improving fast.
"I've picked up the speed," Herron said. "Early in practice when I came in I was thinking too much. I wasn't going out there and playing, so now in practice I've started playing like I really know how to play. I just had to clear my head. You know I put a lot of pressure on myself, so my head was spinning out there and focused on doing everything right. And I wasn't being myself. Teammates helped me, coaches. I'm just more comfortable, playing more like I did in college."
The pride of the University of Wyoming had one catch for four yards last night and was active on special teams.
Regardless of the limited action Herron says he's getting all kinds of great feedback from coaches. And now the GM has spoken.