"Popcorn" Tasted Really Good This Time
August 18th, 2014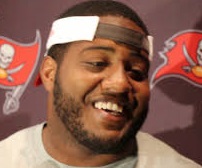 New big-money left tackle Anthony Collins had a message for Bucs fans and media before the first preseason game in Jacksonville: "Get your popcorn. Time to show the game." Joe had questioned Collins about the skeptics who are unsure he will thrive because he's never started half a season.
Sadly, the first batch of popcorn tasted charred and was filled with those nasty unpopped kernels.
The opening offensive line performance was so heinous it drove legions of Bucs fans to liquor stores, pill mills and psychotherapy. But all was fluffy, tasty, buttery and clean on Saturday against Miami.
Lovie Smith said so. And so did Collins. Joe asked Collins what made Saturday so much better.
"[Expletive], everything, with an A.N.G. Everythang, man. We had communication. We trust each other, man. You gotta understand, it's a whole new O-line and a whole new facility. It just felt good," Collins said. "We talked to each other before the game this time. It just felt good to go out there with our soldiers and we were ready to play ball. When we can go to the film [Sunday], we can feel good about each other."
Yes, the Bucs' offensive line is jelling. One part gut check, one part game planning, and a dash of new right guard Patrick Omameh, who didn't get manhandled by the opposition like Jamon Meredith did.
Lovie Smith told fans not to "overreact" about the Bucs' offensive line in the wake of the Jacksonville debacle. Joe wasn't buying that; it was worth overreacting to. And, sorry Lovie, Joe's going to "overreact" to the Bucs' O-line effort again. On Saturday, the first-teamers (but definitely not the second teamers) were quite solid for a brand new unit. Hope was restored. Line play like that might be good enough, if the Bucs can find an edge pass rush continue dominating defensively.