Poor Josh McCown (And Jeff Tedford)
August 10th, 2014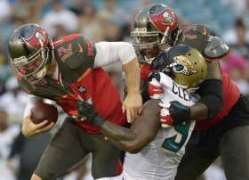 Joe really felt for Bucs quarterback Josh McCown Friday night. And, no, it wasn't just the pain in McCown's ribs and his head that Joe was feeling.
Whatever the Bucs were trying to do offensively in the first quarter, you may as well have taken the playbook and thrown it in the St. John's River, after you threw down a six-pack at the underrated Bud Zone.
(Column intermission: Jags owner Shad Khan has done a masterful job renovating the Gator Bowl. Those two 50-yard-wide HD screens are spectacular — especially when displaying the scantily-clad Jags cheerleaders. Then there are the two pools for the kiddies, various other bells and whistles and the great Bud Zone, an air-conditioned sports bar with an end zone view of the game, both live and on TV, along with other live games. Meanwhile, the Stadium on Dale Mabry Highway has a pirate ship, which only select fans can enter).
Whatever Tedford and McCown wanted to accomplish Friday was Pearl Harbored by a trainwreck performance from the Bucs' offensive line (sans Demar Dotson, who played reasonably well).
This was not lost on Tampa Tribune humorist Martin Fennelly who also felt bad for McCown.
I wouldn't start the Glennon For Starter campaign, though QBOTF (Quarterback of the Future) followed McCown into the game and completed 11 of 19 passes for 140 yards and a TD pass to Tommy Streeter. I'm just saying …

Jeff Tedford's offense remains under wraps. Friday, it needed a sheet pulled over its head, at least in that first quarter.

The first-team Bucs defense seemed ready enough, even though all it had to get ready for was Jacksonville starting QB Chad Henne.
What can one expect from a quarterback who literally had to run for his life in a desperate attempt to live to see his children graduate grade school on each and every snap? The Bucs couldn't run, couldn't pass, but it seemed McCown called an awfully sharp snap count, about the only thing he could do and not worry about taking an opposing helmet in he earhole.
Lovie Smith is trying to quell a public memorial for his offensive line after one preseason quarter. Fair enough. But let's not yet judge McCown (or Tedford) until he's at least able to step up into a pocket without getting leveled on at least two consecutive pass attempts.