Players Get Taste Of "Meticulous" Lovie
August 11th, 2014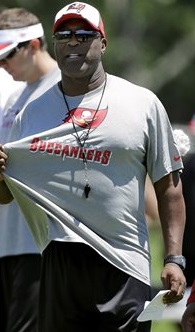 Some may not realize that players are graded by coaches after each game, even after practice.
But a preseason game grade means a lot. And Lovie Smith has a different grading style, one that stands out, even among Super Bowl head coaches.
Starting strongside linebacker Jonathan Casillas spent three years in New Orleans under Sean Peyton and one for alleged "details" nut Greg Schiano. But Lovie's in a different league when it comes to grading.
"There's a difference. They're very meticulous as a staff," Casillas said. "You know, they grade you for plays you might think you did well on but that's not how the grade comes out. They're so meticious and detailed about everything, which is good. It's only going to make all of us better. You think you played great but you only played good. That's only going to help us in the long run.

"They're tough. Some things that players that have been in the league for a while, you might look over, you know, just a simple alignment, or being perfect in your gap. You have to be perfect."
Casillas said he thought the game grades might have surprised some Buccaneers but less so with the linebackers because their position coach, Bucs icon Hardy Nickerson, has been riding them all spring and summer.
"Hardy's kind of been like that since Day 1," Casillas said. "He's been on us and his standard and demands are so high."
One of last year's Super Bowl champion defensive tackles Clinton McDonald says Lovie is setting a standard that won't accept anything less than greatness.
"It's very particular," McDonald said. "They want us to be assignment sound and technique sound. Coach Lovie's grading system is a little bit different because everything is graded, from your get-off, from your hands, your hand placement, getting a rush on the quarterback, hitting the quarterback, even being on the ground earns a minus."

"Coach Lovie Smith is coming in with a culture to raise the standard. That grading scale reflects the standard of excellence. I don't want to compare it directly with Seattle because that was, on the field, the standard for the NFL last year."
The Bucs may have not looked well coached overall in Friday night's game, but a proven process of excellence is in place. And Joe suspects that, at least defensively, it will translate on the field.