Derrick Brooks' Historic Hall Of Fame Speech
August 3rd, 2014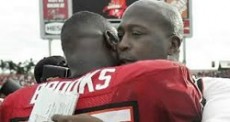 No. 55 was enshrined into the Pro Football Hall Of Fame last night.
If you missed it, Joe's got the full audio. Brooks started by vowing to work his butt off to make the Hall family a better team now that he's in it. He then thanked his son who presented him, Tampa Bay fans, his hometown Pensacola faithful, and his wife and three other children. Brooks also said it's hard for him to stay humble on such a day, before going on to give moving thanks to his late grandmother, stepfather (I thank you for whipping me in front of my fifth-grade class to get my life together.) and his mother.
On the question of how Brooks and Warren Sapp could be such close friends yet such opposite personalities, Brooks said God understands and that's between them. He also went on to thank Mike Alstott for his hard work behind the scenes, the right foot of Martin Gramtica, the secret hand on-field signals he had with Brian Kelly, Jeff Gooch, and Ronde Barber, who he backhandedly said should be a Hall of Famer "in a few short years," and Simeon Rice, who he said "might have been the best pass rusher of my generation."
Among others, he gave special thanks to Hardy Nickerson, Lonnie Martz and John Lynch, who he thanked for all the extra hours they spent "perfecting" the Bucs' defense.
Here's Brooks' 23-minute speech via 620wdae.com audio below. Also, here's video of Brooks' complete speech via Buccaneers.com.