Lovie Identifies Four Defensive Standouts
August 11th, 2014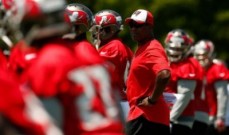 Those trying to get inside Lovie Smith's head to figure out where he stands on the eventual 53-man roster might want to take note of the head coach's comments on SiriusXM NFL Radio yesterday.
Lovie sat down for an in-depth chat on all things Bucs and was asked to name some potentially off-the-radar standouts.
"Defensively, a few guys, Da'Quan Bowers, I know he's not an unknown. But for me I've heard a lot of things about what he hasn't done or hasn't be able to do while he's been down here. But I've been fairly pleased with him. Also Will Gholston, you can look at him, he's made some good plays throughout.

"Secondarywise, you know, [Rahaan] Melvin Johnthan Banks, even though he played a lot last year."
Joe was pleased to hear Gholston's name called by the head coach. Joe's seen nothing but good things from Gholston through training camp, and the second-year man has all the tools.
Remember, Lovie has said he will dress seven defensive linemen on gamedays, but there appears to be eight viable bodies in camp: Adrian Clayborn, Will Gholston, Michael Johnson, Steven Means, Gerald McCoy, Da'Quan Bowers, Akeem Spence, Clinton McDonald.
Means had a strong game against the Jaguars with a sack, but he was out of practice yesterday with a groin injury, one Lovie said occurred during the game but Means played through it.