"The Moxie, The Toughness & The Leadership"
August 6th, 2014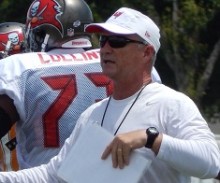 So many Bucs faithful get all worked up about the lack of national respect for their team. They ache for the glory days, not just the wins, but the constant love and attention on BSPN.
These fans already worship Herm Edwards, and now they have a new reason to be happy.
NFL insider Adam Caplan was raving about Josh McCown and Mike Glennon on BSPN but makes it clear that Jeff Tedford is all-in with McCown, saying Tedford "loves the moxie, the toughness and the leadership" of the veteran. Caplan even goes on to say he wouldn't be surprised if the Bucs are a Wild Card team.
Enjoy the BSPN video below.